Curriculum
The Ph.D. training in the Department of Sociology is designed to give students a comprehensive introduction to the discipline and opportunities for each student to pursue their particular research interests. First-year coursework/exams and the qualifying paper provide students with a firm foundation in many major subfields as well as the skills required for scholarly research. In years 2 and 3, students complete two special field requirements, alongside a 2nd year Writing Seminar and a 3rd year Dissertation Proposal seminar. Students also complete 4 mentored TAships (Teaching Assistantships) with sociology faculty who are teaching courses in their methodological or substantive areas of interest. Students are expected to defend their dissertation proposals and advance to candidacy by the spring quarter of year 4, and to defend and graduate no later than the spring quarter of year 7. As per the University of Chicago rules, all Ph.D students have guaranteed funding for up to seven years as long as they are making good progress toward their degrees.

More detailed information about degree requirements and funding for the Ph.D. may be found in the Student Handbook (2023).  For current enrolled Ph.D. students who matriculated in 2019 or earlier, an older version of the handbook can be found in the Student Handbook (2020).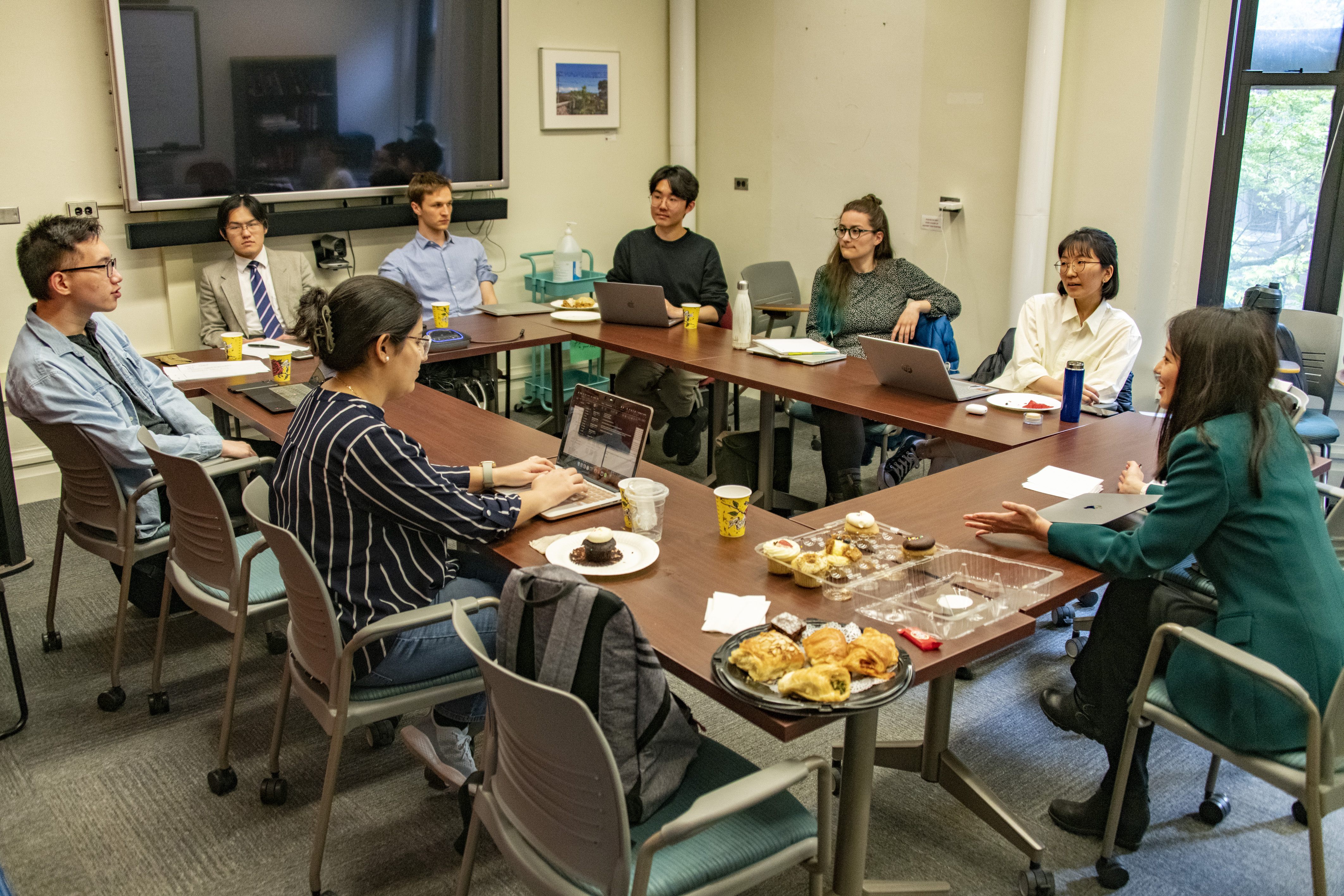 Ph.D. Program
The University of Chicago has a continuous registration system for students in Ph.D. programs. To receive a Ph.D., students must complete a minimum of twelve quarters over four calendar years (unless they complete all requirements for the Ph.D. in fewer than four years). Students matriculating in 2016 or later are allowed to register for up to 7 years from matriculation and are fully funded for all years as long as they are making satisfactory progress.

Students are expected to be in residency in Chicago or its environs during the academic year (Autumn, Winter, and Spring Quarters) until they are admitted to Ph.D. candidacy.

Degree Requirements for the Ph.D.
Students matriculating at Chicago with a BA or BS degree must pass eighteen courses, exclusive of language instruction, at the level of B- or higher for the Ph.D. Nine of these must be passed at the B- or higher level for the M.A. Students matriculating at Chicago who already have a master's degree (in sociology or another field) from another institution or who have a master's degree from UChicago in a field other than sociology must pass fifteen courses, exclusive of language instruction, at the level of B- or higher. Students are expected to complete nine courses in the first year, six courses in the second year, and a total of eighteen by the end of the third year. Those entering with a master's degree will generally have completed their required number of courses by the end of the second year.

Students seeking the Ph.D. complete a set of required courses for credit in years one through three in the program. These include SOCI 30002 Principles of Sociological Research and SOCI 30003 History of Social Theory. First-year students are also required to register for SOCI 60020 1st-Year Colloquium: Research Questions and Design, a non-credit colloquium, in Autumn Quarter. In the second year, students complete the SOCI 30006 Writing Seminar. In the third year, students take the SOCI 30008 Dissertation Proposal Seminar.

Students seeking the doctorate are also required to complete a two-quarter sequence in statistics. The Department offers a course designed for students coming to statistics for the first time, or who need a refresher, as well as advanced options for students with more experience in this method. This two-quarter sequence can be taken in year one or year two.

Other requirements are:
M.A. Examinations
First-year Ph.D. students are required to take a total of five sociology (SOCI) courses designated as "exam courses" among their nine graded courses; designated exam courses will vary from year to year. The courses are divided into ten topic areas. Students are required to take one course from the Theory/Knowledge section. For the remaining four courses, students select ONE course each from four additional subject areas. Students are not allowed to count multiple courses from the same subject area or to substitute in courses that are not on the list of designated exam courses for their cohort year.

The Qualifying Paper
The qualifying paper should represent a solo-authored, original piece of scholarship written in a format appropriate for submission to a professional publication. Note that the requirement is "publishable," not "published," although many recent papers have been presented at professional conferences and eventually published. The paper is prepared under the direct supervision and approval of a faculty member and may be written or revised in connection with one or more regular courses. Students entering with M.A. papers may petition to submit a supervised revision to meet the qualifying paper requirement.

Special Field Requirement
Ph.D. students are required to demonstrate competence in two special fields of sociological inquiry. The Special Field Requirement is to be met during the third year of graduate study. Students must pass the M.A. Examinations at the Ph.D. level before meeting the Special Field Requirement. One special field demonstrates substantive competency in a field of study (the "Substantive" Special Field), and the second demonstrates methodological competence (the "Methods" Special Field). See the Handbook for more details.

Dissertation
The student prepares a research plan under the guidance of a faculty committee. The Ph.D. dissertation is judged by its contribution to sociological knowledge and the evidence it shows of ability to carry out independent research. The plan is subject to review by the faculty committee to determine whether the project is feasible and to assist in the development of research. Upon approval of the dissertation proposal and completion of the other requirements listed above, the department recommends that the Division of the Social Sciences formally admit the student to candidacy for the Ph.D. degree. When the dissertation is completed, an oral examination is held on the dissertation.